How much waste do you 'wheelie' produce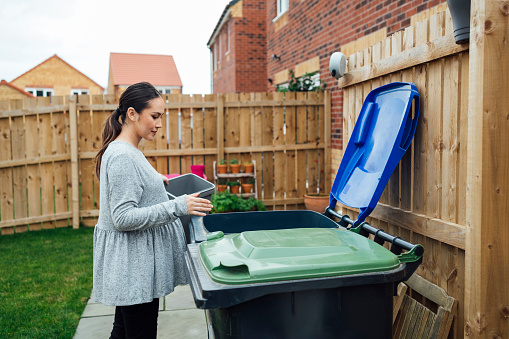 Size Matters: How Much Waste Do You Wheelie Produce?
You might think it doesn't matter what size your kitchen bin is, as long as it does its job, right? But what if you have a new addition to the family, the council has reduced the frequency of your bin collections, or you've had a party and now you're finding you're having to trudge out in the cold to put out the rubbish far more often than you would like?
Well you either need to reduce the waste you create, recycle more, or buy a larger kitchen bin. Did you know that you can use how long it takes you to fill your wheelie bin as a guide to choosing the right size bin for your kitchen?
Choosing the right kitchen bin
Start by noticing how much waste you generate and how often you have to empty your bin. Also think about whether you're making the best use of your kerbside recycling collection scheme and how often your waste is collected.
You will most likely either have a 120-litre bin or a 240-litre wheelie bin, which is the standard size distributed by most councils.
As a guide, if you have a 240-litre wheelie bin and you are producing around 30 litres of waste each day, it will take you about a week to fill your bin. If you find that you're emptying your kitchen bin every 2-3 days, you will need a kitchen bin that holds around 40-50 litres of waste.
If you fill your 230-litre bin halfway, or you have a 120-litre wheelie and you fill it in a week, this means you are probably producing 10-15 litres of waste each day. If you're emptying your kitchen bin every few days, it will need to be able to hold at least 20-30 litres of waste.
It can be tough to think about waste in terms of litres, but as a guide, something like a 4-pint milk carton can account for around 2 litres of waste.
Reducing your waste is the first step to avoiding overflowing bins and cutting down on the waste you're sending to landfill.
Kitchen bins decoded
Are you still feeling confused about what size kitchen bin is going to reduce your trips out in the cold to your trusty wheelie?
If live alone or with one other person, or if space is at a premium in your property, opt for a 15-30 litre bin.
If you live alone or with a few other people, you don't generate that much waste, or you're an avid recycler, opt for a 30-40 litre bin.
If you're a family of 2-4 people and you don't want to take the rubbish out too often (let's face it, who actually likes doing it?) opt for a 40-50 litre bin.
If you have a larger family and you create a lot of waste, go for bins that are 50 litres or above. That may sound a lot but you'll be surprised at how fast you can fill your bin; especially when there are kids around!